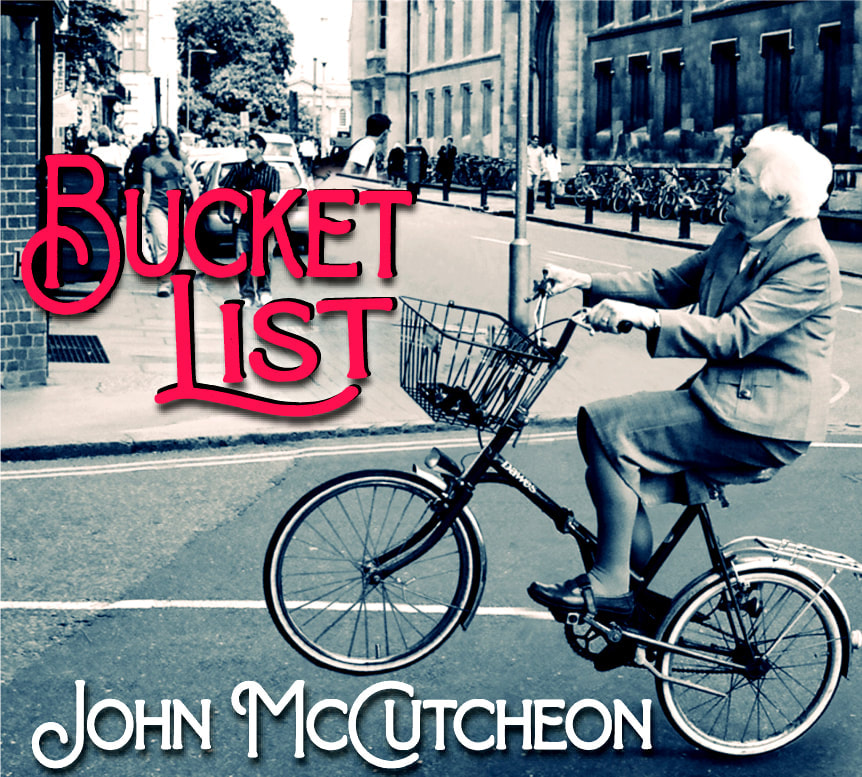 John McCutcheon Bucket List Appalseed FolkMusic.com
I have long admired John McCutcheon, likely for as many different reasons as years.
I love that he had the foresight to register www.FolkMusic.com as his website. Ballsy, that.
I love that he could make fans (if only for an evening) of two Albertans who traveled to Chicago for a hockey game and found themselves captive to their Third's insistence that he 'Wasn't going to go this far and not get to a concert at the Old Town School of Folk Music.'
I love that his advocacy for people, social justice, and environmental madness has never wavered.
I love that he continually brings to song little-heard stories from history (and imagination) that resonate with me on such a variety of levels.
I love that he wrote, "The Night John Prine Died," and yet hate that he had to.
I love that he can play so many instruments that he is a one-man band of folk music history.
I love that his voice remains crystal clear and bold, forty-one albums in—I still have catching up to do.
And I love that, too: his catalogue is rich and dynamic, and still waiting to be further explored.
I love that songs written and performed twenty, thirty, and more years ago—"Immigrant," "Happy Adoption Day," "Soup," "Room at the Top of the Stair," to name only four—remain vital, open to interpretation, and reflect 'now' as much as they did 'then.'
I started this review with a list, deliberately. Bucket List is much more than a generous list of songs—eighteen—but it does have a 'list' quality to it. Maybe just a bit too much. McCutcheon, for whatever reason, appears to rely this time out on 'song creation via itemizing' more than usual, and more than likely some will appreciate.
There are several quality songs contained within Bucket List, make no mistake; I would be hard pressed to remove any of them from the album. But when the listener thinks, first time through, "Oh, another list song," one is likely overusing the convention. Or, to steal a lyric from the title song, it starts to seem a bit of a laundry list.
A good laundry list, complete with considerable insight. But…
As I stated, I quite admire John McCutcheon. I've been listening for twenty-some years, which makes me a newbie I know, and I love his albums and songs. Heck, I dared family wrath by dragging the reluctant to a folk concert on a cold, Chicago night—worked out, that. So my criticism does not come lightly.
I would prefer additional songwriting variety with Bucket List.
Still, there is power contained here. A number such as "Farmer," itself a bit of a list, is strong, each image captured contributing to the composition of the protagonist and his kind, and the situation they find themselves in as the calendar continues its more forward. The device also works to terrific effect within "Atonement," a devastating song of truth and reconciliation, and in "The Other," a song that revisits and expands upon "Immigrant." "The Hinge" works, complete with phlegm exaltation.
McCutcheon's songs, each of them here certainly, speak quiet truths and brutal honesty. There are a few songs within Bucket List that may work better, I suggest, with a variety of lyrical structures, "It's Not" being one, "Out Here" another. By the time we arrive at "Used To" and "Moonshiner," fine ideas and performances in isolation, we have started to predict the 'next' element in the coming list, and this cannot be desirable, artistically.
And I sincerely hope I am not being unjust as Bucket List is very enjoyable, each song offering solace, insights revitalizing black & white memories, compassion, and wisdom. It is an intimate recording, clean and close. One frequently feels that the singer is making eye contact just with you. John McCutcheon knows more about folk music than I'll ever read, so my quibble may be out-of-line. I don't think so, but…
I'm going to take some McCutcheon advice now, and "Shut up and settle down, take a breath and look around," (from "Finally," included here.) Maybe I am falling into a critical trap of laziness, focusing on one element that others are unlikely to consider.
What does that say about me? Over-thinking things? Under-thinking? Missing the point entirely? I'm unsure.
I do know that McCutcheon sounds great vocally on Bucket List. He is joined by some finest folk and roots musicians: long-time collaborators Jon Carroll (keys, accordion, percussion, and vocals) and JT Brown (bass) along with Stuart Duncan (fiddle and mandolin) while Bill Miller adds flute and chants to "Medicine Game." McCutcheon limits himself to guitar throughout (excepting a single appearance of banjo on "Moonshiner,") although he may be playing on the album's closing number, "Zilphia's Piano;" the album notes are silent on this piano credit.
I also know that "Sins of the Father" and "Finally" are outstanding songs, as are "Ghost Town," "Be Still," and a few others.
Take McCutcheon's advice, as I will: "It just feels right." Bucket List does. So don't worry about my hesitation: embrace this album, its songs, messages, and performances. You are unlikely to have regret.
"Midst the rolling of the world all around you,
Be Still.
When everything conspires to confound you,
Be Still.
When they offer one more lie,
And you know you've had your fill,
Be Still."