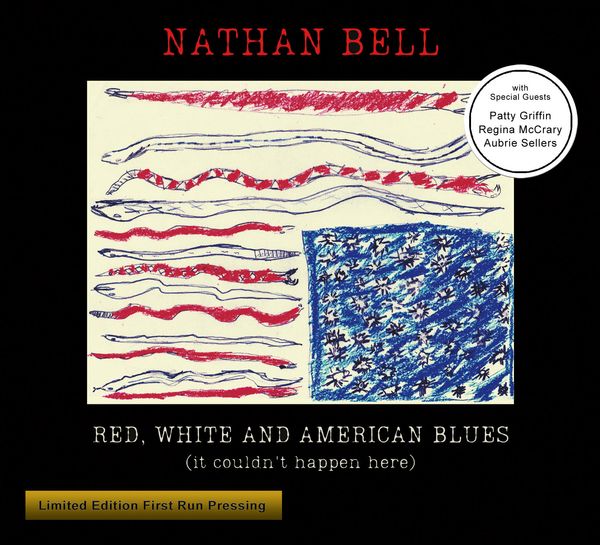 Nathan Bell Red, White and American Blues (It Couldn't Happen Here) NathanBellMusic.com Need to Know
The most important Americana-roots album of 2021? Maybe.
I don't really know what more to say about Red, White and American Blues (It Couldn't Happen Here.)
It is happening there. And it is happening here.
The fascists—especially those who don't realize they are fascists, who won't realize they are fascists—are taking over.
It couldn't happen here, Sinclair Lewis wrote a few generations ago; Mark Kemp reminds us of this in his perceptive liner notes to Nathan Bell's album, fully inspired by the time of Trump, Mitch, Fox News, a compromised Supreme Court, OAN, Q, and their ilk.
But it is happening, and it is not hidden, behind the scenes or in small measures.
One is pained to imagine what Bell has written in the last two years.
These songs, scathing, honest, and forthright, were written in the last decade up to 2020 and mostly in 2019. Bell is a songwriter, a truth teller, a talking-blues oracle of what was coming and what many choose to ignore and minimize.
Resolutely, he dedicates the album's scathing title track to Gil-Scott Heron. It is a harrowing song, replete of images burned into our memories through countless television replays, from Vietnam, the American south, the recent past and distant memories, and those learned from the oral history of forgotten people.
Song after song, Nathan Bell encourages-—No, that isn't strong enough. He forces and challenges his listeners to confront the past on which their lives are based, and to examine the privilege they wield and the influence they could impact if they would continually advocate for more than a glossier camera phone.
Bell take us to Angola Prison and on a ride with Lightin' Hopkins. We visit working folk, the Christian and War Machines, and The Dead Man, of poetry and reality. Guns and death figure prominently, metaphor perhaps for the disdain we hold for each other, especially The Others.
Bell's voice isn't going to win him accolades within the mainstream, but for those who appreciate some vocal reality, those who know the appeal of James McMurtry, Townes, Guy, Billy Joe Shaver (give "When You're Dead" a listen and be ready to be taken way by the similarity: it's no little spooky), and other folks—Hayes, Bingham, Sturgill, and Isbell, to bring me into the current decade—who choose a less traveled ditch. Bell can sing, no doubt—I don't mean to suggest differently; just don't expect pretty from this Chattanooga-based artist.
Regina McCrary adds immeasurable soul and depth to "Retread Cadillac," the Lightnin' Hopkins song and "Mossberg Blues," where a man almost loses himself. Patty Griffin sings on three songs, including "American Gun," one of the album's core numbers, and "A Lucky Man," written for Bell's father, poet Marvin Bell and "the original Dead Man."
On an album where Every Song Matters, the highlight may be "Running on the Razor," which features Aubrie Sellers on guest vocals. A song of brutal visions and eloquent truths, one can only heal dark trauma through the application of healing light: "And the dead kill the dead, The ghosts haunt the ghosts, The ones you love to hate, Are the ones you need the most." Family.
Even during the album's most tender moments, a calming, loving duet with Griffin entitled "To Each of Us," Bell chooses to challenge perceptions by including images of South Dakota's sacred, desecrated Black Hills and lost companions as they "sail through the fog headed straight into the rocks."
Bell handles most of the guitar walk, staggeringly effective in places; one can picture him on a studio stool, laying out an acoustic groove, nodding to himself and capturing the exact mood each song demands. Clean. Additional folks I don't previously recall encountering—Alvino Bennett (drums), Frank Swart (bass, guitars, banjo, Mandocaster), John Deaderick (keys), and Reverend Crow (harmonica)—help Bell construct this literate, aural universe.
At thirteen songs, each necessary, vital, and revealing, Red, White and American Blues (It Couldn't Happen Here is no easy listen. Nathan Bell's country-influenced, blues-and poetry-based Americana isn't about good time gals and party trucks goin' down to the swimming hole. These songs are real life, Jim Carroll real, Gil-Scott Heron real, Lucinda Williams real. We may not be ready for it, but we should be. We've had sufficient warning.
The world has changed.
Some document it.
Some push back.
With Red, White and American Blues (It Couldn't Happen Here), Nathan Bell does both.
It's a start. So is listening to this impressive, dark, and timely artistic statement.