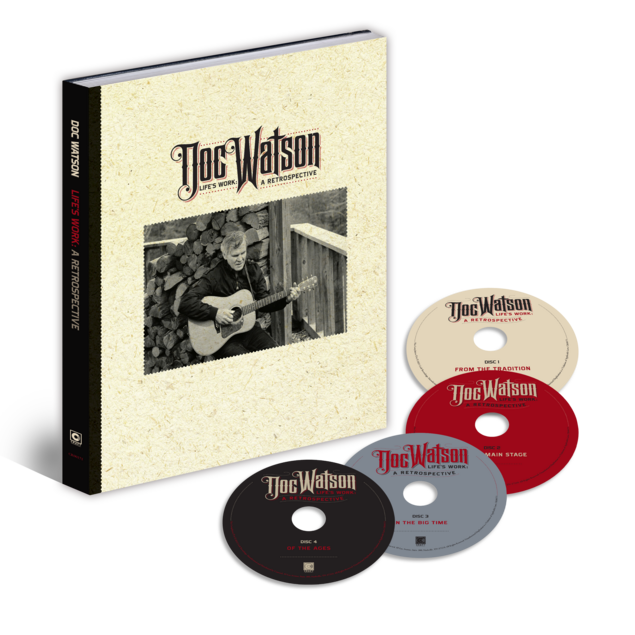 Doc Watson Life's Work: A Retrospective Craft Recordings
I look up and I am staring at a picture of Doc Watson (and Jack Lawrence) taken in Tacoma in 2001. Over my shoulder, his first Vanguard album has pride of place, and on the record and CD shelves surrounding me there are about as many discs of his as there are anyone's: without counting, I know there is well more than fifty. His hands are the last I see most nights, framed in a print upon my wall.
So, I'm a fan, more than a casual one and therefore, reviewing a new Doc Watson anthology can't be done objectivity. I'll do my best to review it fairly.
I don't have the physical version of this very impressive set. It is a four-disc overview of Doc Watson's lengthy career, complete with 88-page booklet including expansive liner notes by Ted Olson and many 'never-before-seen' photos. I have a download of the 101 tracks (only one previously unreleased, but several difficult-to-track-down) and the notes. I can only imagine how lovely the package is when held in hand.
The music is, as one expects, essential.
The vast majority of the music here will already be in the collection of Doc Watson devotees. It covers quite thoroughly his Vanguard, United Artist, Flying Fish, Sugar Hill, and assorted other label recordings. The expected songs, some from available live recordings, are included; peruse the track listing, and not too many surprises are discovered.
The offerings appear roughly chronologically. The first disc includes performances with his wife Rosa Lee (on her "Your Long Journey), Fred Price, Gaither Carlton (Watson's father-in-law), his son Merle, Jean Ritchie, and Bill Monroe (mostly from a variety of Folkways and Vanguard releases) and solo appearances. These songs are a charming and dexterously impressive as when first heard.
Significantly, the set opens with Doc Watson's first recorded performance from 1941. It is a previously unreleased recording from an aluminum-core acetate disc 'field recording' captured at the Boone Fiddlers' Convention by one W. Amos Abrams. This rendition of "The Precious Jewel" is noteworthy only because it is Doc Watson performing as an eighteen-year old. But it is our only recording of Doc Watson as an eighteen-year old!
Another 'new' piece to this listener is a take of Watson's "Pharoah," a demo recording made with the Jack Williams Band in 1954. Playing an electric Les Paul-model guitar, Doc's voice is captured absolutely beautifully on this recording; everything about the track is stellar, and one can see why the group thought the song would be suited to Tennessee Ernie Ford.
Although far from rare, I was pleased to encounter here a few underheard recordings. "My Little Woman, You're So Sweet" is an enjoyable performance of a Blind Boy Fuller number captured at the Ash Grove in 1964. Performed by Doc on 12-string, it is culled from a Sugar Hill set entitled Songs from the Southern Mountains. Also fresh to these ears are a pair from Vanguard's Old Timey Concert, recorded in 1967 for the Seattle Folklore Society. "Little Orphan Girl" and "Wanted Man" are from this set.
More than half of disc two is comprised of tracks from Southbound and Home Again with the contemporaneously released Doc Watson in Nashville: Good Deal! represented by a pair of songs. Seven tracks with Merle from Doc Watson on Stage complete the disc. While terrific listening, nothing new or hard-to-find here, and as the final disc feels a bit rushed, perhaps fewer songs from these readily available recordings should have been included to make room for more later.
Disc Three kicks off with "Nothing To It," pulled from the Flatt & Scruggs release Strictly Instrumental. A jumping number, "Nothing To It" finds Doc moving into the next phase of his career as a well-respected innovator of old-time approaches. Included on this disc is a guest appearance from an Earl Scruggs album as well as a pair, including the essential "Tennessee Stud," from the Nitty Gritty Dirt Band's Will the Circle Be Unbroken set.
We move into the United Artist years here, with tracks pulled from albums including Elementary Doctor Watson, Then and Now, Look Away, and a few numbers from one of this era's most satisfying Watson releases, Memories. "Don't Monkey 'Round My Widder," taken from a Chet Atkins collaboration, closes the third disc; additional music from Reflections would not have gone unappreciated.
Interesting for this listener is a 1974 Poppy Records single "Doc's Rag" accompanied by its flipside "Poor Boy Blues." I'm sure I've heard these before, but darned if I can figure out where, so I'm pleased to have them included here. There appears to be an error either in the liner notes or in my download. A promised Poppy B-side, "Peace in the Valley" appears to be missing, replaced by an unidentified but vaguely familiar instrumental. [Clarification was sought, but not received, from the label.]
Disc Four opens with eight songs from a pair of Flying Fish album releases, Red Rocking Chair and Doc & Merle Watson's Guitar Album, including "Did You Hear John Hurt?" "Going to Chicago Blues," and "Gonna Lay Down My Old Guitar." "Guitar Polka,"—and I can't believe I am writing this about a Doc Watson performance—is unnecessarily included.
After this extended introduction, the final disc in the set becomes more eclectic, collecting tracks from one-off collaborations and select albums as thirty years of performance is hurriedly and inadequately captured in 17 additional tracks.
Included are impressive performances with Sam Bush ("Twin Sisters"), James Cotton ("How Long Blues"), Norman Blake and Tony Rice ("Salt Creek"), and Ricky Skaggs and Alison Krauss ("Down to the River to Pray.) A lot of fine recordings, including Riding the Midnight Train, Portrait, Third Generation Blues, Docabilly, and the like are touched upon but insufficiently; still, such can be expected when limited to four discs.
Earlier decisions to include eight tracks from a particular album result in having to gloss over some of the recordings made later in Watson's career. Still, a lot of great music is included on this final disc, including more featuring Bush, as well as Béla Fleck, Alan O'Bryant, Mark O'Connor, T. Michael Coleman, Jerry Douglas, and Jack Lawrence. Nothing rare, again, but it is good to hear "Nights in White Satin" from the under-appreciated Round the Table Again set.
This fairly exhaustive set closes with "Amazing Grace," performed in 1962 by Watson, Clarence Ashley, Clint Howard, Fred Price, and Jean Ritchie, all names well-associated with the Doc Watson story. Presented a cappella with five voices blending in faultless, old-time harmony, a better choice seems impossible to make. Lovely.
The song notes add considerable value to this package. Insights of recording details are always appreciated, and stories from those involved also add to the experience.
Ted Olson's extensive essay, "Doc's World: Traditional Plus" is massive, in all common senses of the word. Olson, well-regarded by all who value old-time and country music sounds, delves into Doc's life and recording journey in great detail, infusing his narrative with the voices of those who knew and were close to Doc, as well as those who performed with him. While much of the Watson story is known to us who have been listening for more than a bit, it is wonderful to have the story summarized (which sounds as if it is brief; it isn't) here, chronologically and topically. And within nearly every paragraph, something previously unknown is revealed. Olson has a companionable writing style, delivering his Doc Watson story with gentle authority.
We have long understood Doc Watson to be pragmatic. He was blessed with an affinity for music, and worked to master his talents and to take them as far as he could. He did so out of love for the sounds, naturally, but also out of awareness that it was through music that he could support his family. Over the years, he incorporated music from the Gershwins, Dylan, The Moody Blues, Jimmie Rodgers, Mississippi John Hurt, Ralph Stanley, and just about anyone else he thought could be interpreted to "communicate what he wanted to communicate to his audience." (Bryan Sutton, within the liner notes.) "Traditional plus," as Doc labeled things. It is the breadth of Doc Watson's music that may surprise some who come to this substantive package with a limited view of the Deep Gap, North Carolina native's repertoire.
This extensive compilation would be welcome on the shelf of most traditional and roots music fans. It provides a substantive overview of one of the most significant purveyors of roots, traditional, old-time, and bluegrass-country music the 20th Century produced. Doc Watson was a brilliant musician, vocalist, humourist, and entertainer; Life's Work: A Retrospective encapsulates his influence and status. I just wish I had the full package in-hand to consider. Christmas is coming, right?